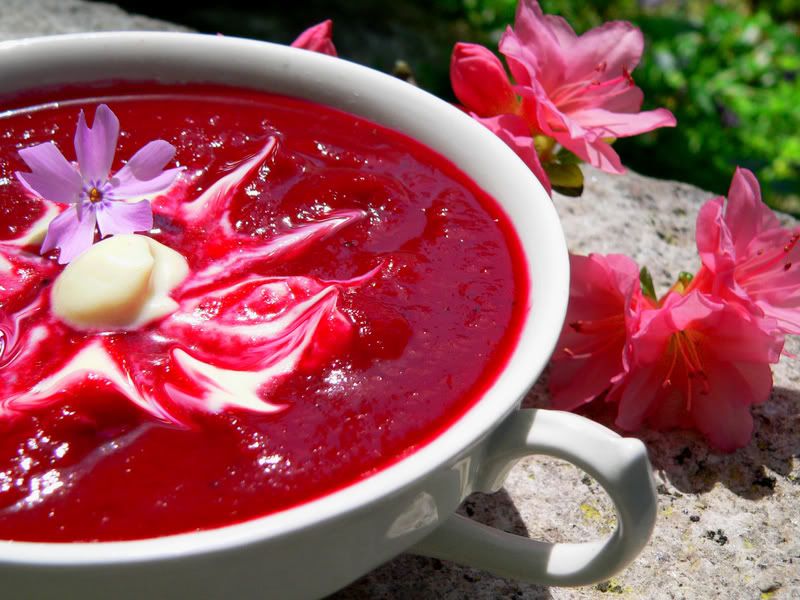 ooh pretty... want to touch!
2 cups water
2 cups strong vegetable broth (I use Better than Bullion for my stock)
6 Medium peets, trimmed, peeled, cut into chunks
1 14 oz can diced tomatoes
1 red, yellow, or orange pepper, seeded, deveined, and coarsely chopped
1/2 cup orange juice
1/2 cup chopped parsley
2 bay leaves
1 dash dried dill
1 large onion, coarsely chopped
2 large cloves garlic, chopped
1 T olive oil
Lemon Juice, Stevia, Salt, and Freshly Ground Black Pepper, to taste
Chopped cilantro
Vegan sour cream
, for garnish (I linked a recipe for convienience, use whichever you prefer, including commercial)
1. Combine water, broth, beets, tomatoes, pepper, bay leaf, dill, and bring to a boil. Reduce to simmer and cook, partially covered, for about 35 minutes or until vegetables are tender. Remove from heat, discard bay leaves, set aside to cool. If it is cooler outside than inside, I often leave the soup base 'outside,' it cools faster and saves more energy than putting it in the refrigerator.
2. While base is cooling, heat the oil in a frying pan over medium high heat. Add the onions, scallions, and garlic and cook until tender. Remove from heat, add to soup base, along with parsley.
3. Remove about one cup of liquid from the soup base (more if it seems really 'watery'), add orange juice. Puree with a blender bowl, food processor, or immersion blender in batches if necessary (I used an immersion blender). If soup is very thick, add more of the beet juice liquid, continue to add liquid until you get desired thickness (thinness?).
Let base cool all the way. Here is where you custom tailor it, with the lemon juice, salt, pepper, and stevia. Some people like their borscht tart, some sweet, some both, etc. etc. When you are satisfied with the flavor, let cool.
Spoon into white bowls, and garnish with sour cream, sprinkle with cilantro.
The rest of the beet broth you can save in the fridge for food or clothing dye, a morning drink, use in another soup, fake blood ;), etc. etc.
Enjoy! And I'm not going to pretend I'm not totally proud of the photo up above.